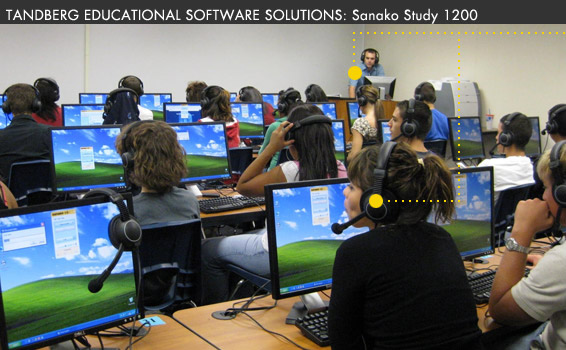 SANAKO STUDY 1200 - ADVANCED LANGUAGE LEARNING SUITE
The SANAKO Study 1200 advanced language learning suite that offers an extended range of essential activities that focus on both listening comprehension and voice practice. Study 1200 provides students and teachers with all features and benefits of a modern language learning environment. The versatile solution supports student voice recording for pronunciation and intonation drills, and offers teachers innovative content authoring capabilities that allow for the creation of new learning material. In SANAKO Study 1200, the teacher can pair students for directed or free discussion activity and listen to student conversations for more interaction and guidance.
LANGUAGE LEARNING IS NOW POSSIBLE ANYTIME, ANYWHERE: Teachers can assign lesson files to students to work with on multiple platforms, such as tablets, Windows OS, and Chromebooks etc. Students can connect to and work with the course materials wherever they are. Completed student work is saved automtically on the Sanako Anywhere server. The teacher can then review and comment on completed student work.
AVAILABLE FOR ALL MAJOR PLATFORMS.
Features and Benefits:
Extensive set of language learning activities - Listening Comprehension, Discussion, Model Imitation and Reading Practice
Includes SANAKO Study 1200 Digital Recorder - advanced tools for better results
Voice Insert - in this mode, gaps can be inserted automatically into source material while students are recording their voices
Flexible Licensing - from one classroom to a full Site License
Teacher controlled web browsing with "Follow Me" presentation mode
Sanako Study 1200 Case Studies
Learn how Tandberg Educational Inc. can create a custom 21st Century Learning Solution for your unique needs and environment. Contact Tandberg Educational, Inc. today.