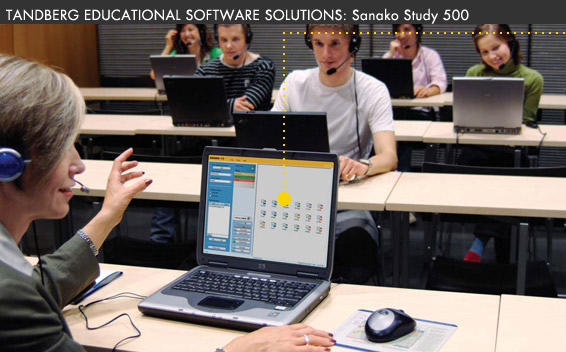 SANAKO STUDY 500 - PERFORMANCE IMPROVING TEACHING SOFTWARE
Combining the use of multimedia and the Internet with a suite of essential classroom management tools is a must for modern teaching environments. Study 500 supports teacher-led classroom interaction for the effective teaching of any subject. Installation requires no special expertise and the software is easily integrated into existing ICT infrastructure making it the ideal solution for IT-based whole school learning.
Features and Benefits:
Teacher Guided and Controlled Web Browsing
Monitor Student Computers in Real Time
Collaborate with Electronic Whiteboard and Marker Tools
Share Teacher or Student Screens
Remotely Launch Programs to all Computers
Microsoft OneNote Integration
Learn how Tandberg Educational Inc. can create a custom 21st Century Learning Solution for your unique needs and environment. Contact Tandberg Educational, Inc. today.